Space-efficient ColbyRACK system Optimises new Malmar DC storage
Malmar Enterprises, one of Australia's leading wholesale distributors of gifts, novelty products, toys and homewares, has developed a purpose-built distribution centre (DC) at Upper Coomera on the Gold Coast.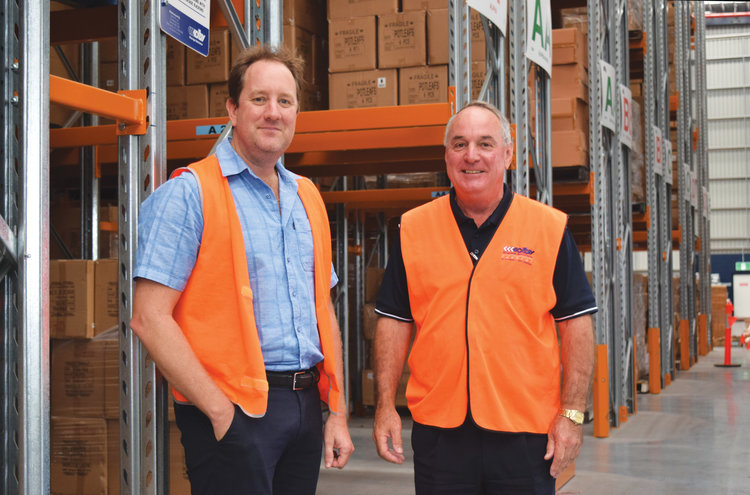 Malmar Enterprises
A key feature of Malmar Enterprises new DC is its comprehensive range of space-efficient ColbyRACK pallet and carton storage systems, which closely follow the DC's building column profile, optimising storage capacity and enabling Malmar to store up to 9,000 pallets within the 9,000 sqm distribution facility.
Malmar Group Director, Dave Turner, said: "A lot of our products are in big and bulky cartons, so utilising storage space efficiently is essential in order to minimise our warehousing costs."
Mr Turner added: "We see handling our own distribution as a core strength."
"As part of our business model, Malmar has developed several warehouses over the past decade, and we've learned a lot over the years.
"One of our key findings has been that not all storage systems are equal."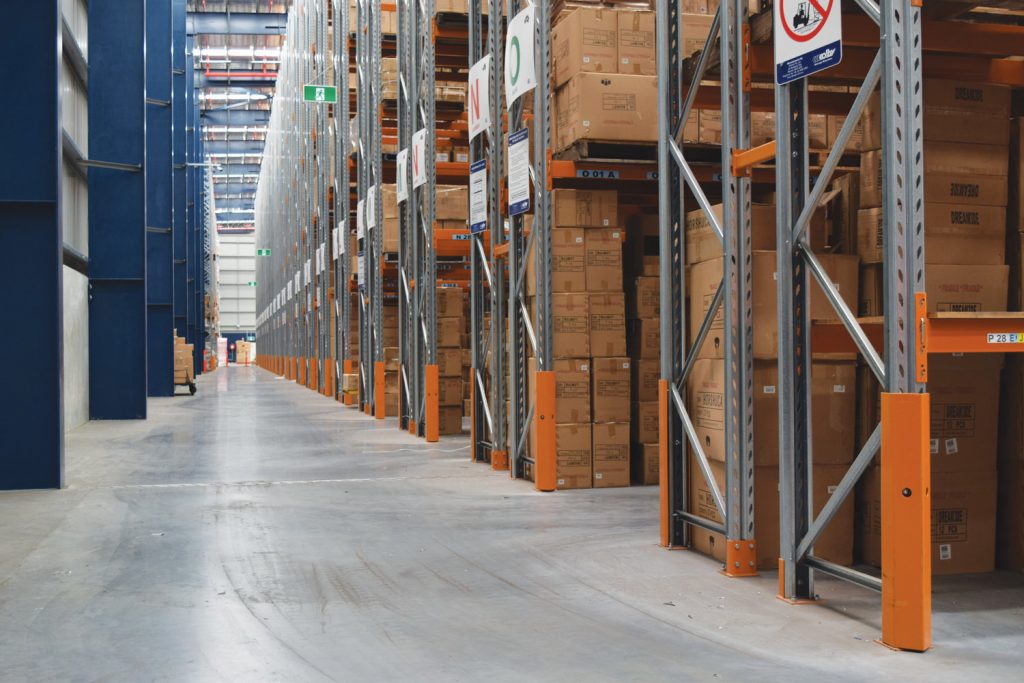 New DC designed to support growth
Malmar needed a new streamlined head office and DC that satisfied its current distribution requirements and provided capacity for future growth.
Malmar's previous DC was constrained with 8 m high racking, with the building's fire protection system adversely impacting the operational efficiency of the system.
The DC's new high-density storage system was designed to remove all of the operational restrictions inherent in the previous system. The new ColbyRACK storage systems have enabled Malmar to significantly improve the efficiency of the DC's order picking, packing and shipping operations.
Smart design optimises storage space
A lot of pre-design discussions between Malmar and Colby made it possible to optimise the available storage cube and minimise the total cost of the installation. The building was designed around the racking and storage requirements, not the other way around.
A good example of this was Colby's design of the storage system to satisfy new town planning and fire safety requirements, with the final height of the storage system being just under the statutory overall cubic storage requirement for in-rack sprinklers. This delivered significant cost savings and eliminated potential on-going maintenance issues for Malmar.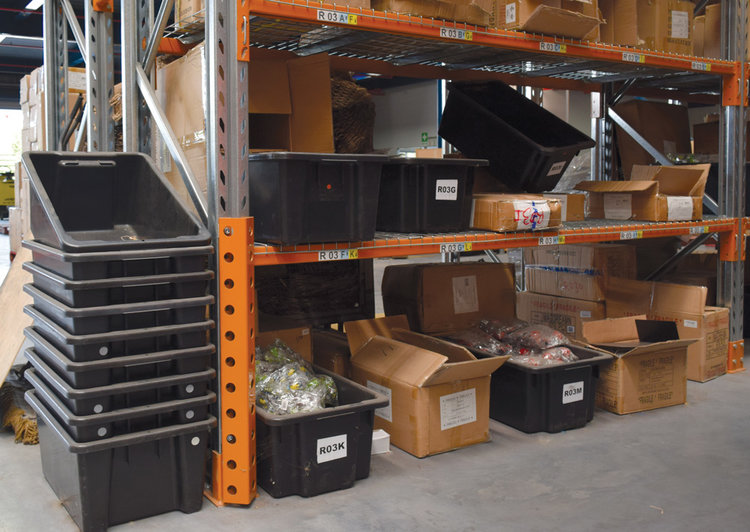 To prevent storage system damage during normal operations, a combination of heavy-duty rack end protection and Colby Protect-a-Rack upright protectors minimise the potential for accidental damage to the racking during pallet put-away and retrieval.
Mr Turner added: "As well as optimising the overall system design, Colby's RACKMAN® software was a great visual aid in being able to quickly assess how any layout changes would impact the strength, integrity and capacity of the racking.
A VNA (Very Narrow Aisle) of just 2042 mm pallet to pallet was achieved, optimising the warehouse's total pallet storage capacity.
ColbyRACK's accuracy simplifies and speeds installation
Commenting on Colby's installation of the 9,000 pallet capacity storage system, Mr Turner said the project is testament to the quality of ColbyRACK components and the skill and experience of Colby's rack installation team.
Such are the high-quality standards to which ColbyRACK is made, the team responsible for installing the racking could mark out and pre-drill all of the holes – around 3,500 – for the rack upright baseplates in the slab prior to installation, which saved a considerable amount of time, said Mr Turner.
"This shows great confidence in the dimensional accuracy of the ColbyRACK system," he said.
"I don't believe any other pallet racking supplier or installer would have this confidence."
Having the rack layout established prior to commencing construction of the DC also delivered benefits, added Mr Turner.
"For example, it enabled us to make sure that all of the floor slab joints would be located within bays of racking, minimising the potential for damage to the slab joints by forklift traffic over time," he said.
ColbyRACK system configuration improves order picking efficiency
A key driver in the design of the DC's order picking systems was integrating the capacity to keep around one week's worth of picking stock on hand within a compact area in the pick face.
This enabled Malmar to compress the pick face by more than a third, providing significant time savings for order pickers travelling the same picking path every day.
Malmar's racking configuration enables the storage of either 6 pallets high or 5 pallets high plus a long span shelving level depending on the location.
In total the storage system provides around 9,000 pallet locations and more than 400 floor level pick from pallet locations. In the order picking area, 167 bays of longspan shelving provide more than 430 lineal metres of shelf space.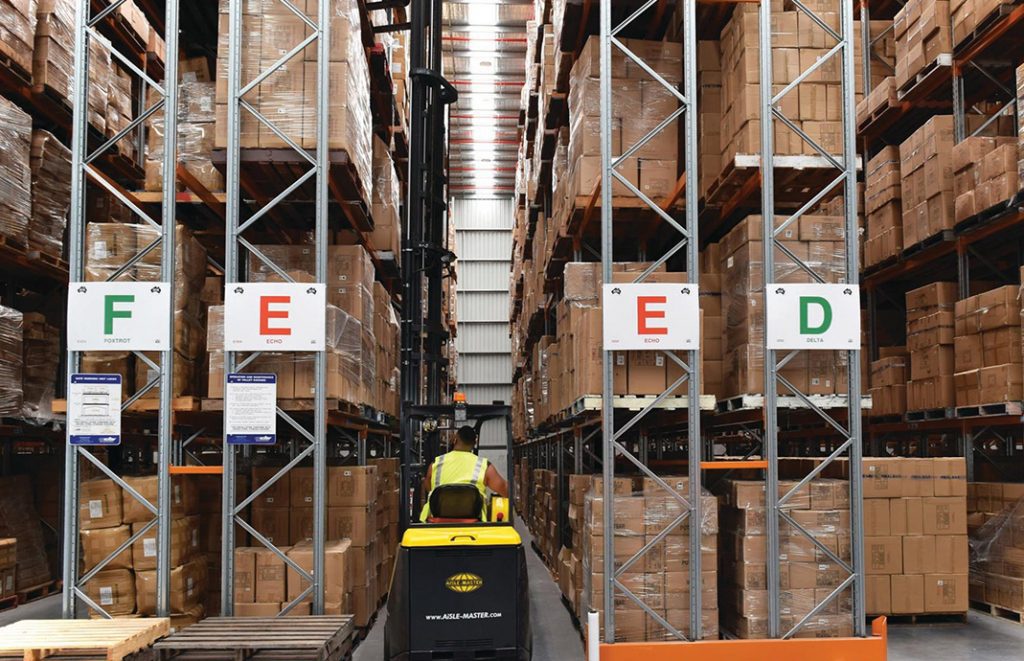 DC designed to cost-efficiently meet seasonal peaks
A large part of Malmar's business is driven by seasonal events such as Christmas, New Year and Mother's and Father's Day.
"During these special event periods our order levels soar," explained Mr Turner.
"Having a storage system in which any pallet can be placed in any location gives us great operational flexibility and delivers significant productivity gains.
"Being able to accurately scale up throughput, without a corresponding increase in labour, enables us to respond to the increased demand in a timely and cost-effective way."
Streamlined goods receipt
A significant improvement for Malmar is the efficiency of the new DC's goods receiving area.
"We made sure when designing the new DC that our goods receiving process would be as streamlined as possible," said Mr Turner.
"By doing so, we are now able to keep incoming container stock close to the relevant bulk pallet put-away locations, which minimises materials handling and forklift travel."
Storage system design finalised before building completed
Commenting on the design phase of the project, Mr Turner said: "Colby Storage Solutions' attention to detail and willingness to explore multiple options throughout the design process was excellent."
From the conceptual design to multiple iterations of racking layouts, the storage system design was completed before the building envelope was constructed.
This allowed the optimum placement of structural columns for the desired configuration, and provides the future flexibility for non-VNA layouts to integrate structural supports.
For more information on Malmar Enterprises contact us today.
Back To News